PIONEER  HOME  SERVICES

              "Built To Last Since 1945"

                 CHUCK DUDLEY

                 OWNER/OPERATOR

                 TRACY BOEKELMAN

                 Pressure Washing Technician

                 P.O. Box 466

                 Snohomish, WA             

                 98291-0466

                 425-232-3587

SING LOG HOME PHOTO GALLERY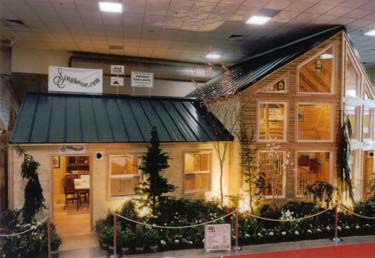 Built by Pioneer Home Services and volunteers comprised of Sing Home customers, this Sing Square Log Home display was the Feature Home of the 2002 Seattle Home Show.  It was erected by six people in 5 days, proving the ease and degree of skill needed to construct a Sing Log Home.  This model home was sold at the show and now resides in California's Napa valley.

This Pioneer built house on Saratoga Passage, Camano Island, WA, was specifically designed with roof color and lines to not only blend in with the landscape, but also enhance the surrounding scenery.

This Pioneer built "Quaker" style 3,000 square foot home with attached log garage was built in Conway, WA in 2002, with "sweat equity" help from the owners.

Hoodsport, WA Sing Log Home

Heavy 3 foot snows hampered construction during the winter of 2008 - 2009, but we stayed on site and worked through  it.

Even heavy snow can't stop Chuck Dudley from working on 2nd story scaffold.

Front view of finished home.                                                                Rear view of finished home.    

Clear vertical grain Douglas Fir trim is complimented by the beauty of Sing Flooring with its 1-1/2" thick vertical grain Douglas Fir laminate system.

Real Ash wood cabinets add beauty that would compliment any log home.

Home on Camano Island, WA

Home on Bainbridge Island, WA

Interior of home in Leavenworth, WA

Licensed - Bonded - Insured  Contractor #: PIONEHS999NM

Another Sing Log Mansion in progress.  This 3 story 6,000 square foot home south of Monroe, WA, is being owner built, with consulting and construction services by Pioneer Home Services.